MOROCCAN TAJINE
In Morocco, slow-cooked stews maintained at low temperatures which results in lumps of tender meat with vegetables and sauce that are aromatic are referred to as Tajines. Their name is mostly because they are prepared using the tajine pot. This pot has its cover shaped like a knob for easy removal. During the simmering process, the knob can be lifted off without using a mitten and because of this feature; you can inspect the food during the cooking process. You can inspect the main ingredient, add vegetables or other liquids to the food and stir the food.
Before we dive into the Tajine recipes, you need to know that in preparing a tajine, you must first season the clay cookware. And if you are new to the cooking of this recipe, you should be very much aware of the differences between using a tagine pot and cooking in one.
Here is a list of Moroccan Tagine Recipes that you should give a try:
Chicken and Apricot Tagine
I describe this recipe as a combination of sweet and savory because it satisfies everyone including those who are picky. The process involves cooking the chicken slowly until it is soft and you add onions, saffron, cinnamon and ginger and then the dish is topped with dried apricots poached in syrup. The good thing about this recipe is that it is easy to prepare.
Moroccan Meatball Tagine in Tomato Sauce
This simple yet ravishing dish that involves dipping with a chunk of bread might make you change your mind about the Moroccan tajine delicacy if you are in doubt. Meatballs, also known as Kefta Mkaoura, are well seasoned and cooked together with homemade tomato sauce and it is then garnished with eggs traditionally as a finishing touch.
Vegetarian Chickpea and Carrot Tagine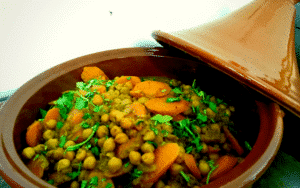 This simple yet tasty tajine prepared with carrots and chickpeas never fails to impress. Seasoned with honey and cinnamon, which brings out a peculiar sweetness, it makes the perfect meal for all vegetarians as their meal or as an appetizer. While preparing, you can also add raisins if you desire.
Beef, Lamb, or Chicken Tagine with Peas and Artichokes
This can be said to be a Moroccan single-pot meal or stew because it is filled with a lot of vegetables. Peas and artichokes are also included in this dish especially during the winter when they are in season. The peas are shelled while fresh and the artichoke bottoms are peeled with the use of the hands: but if you will find this stressful, stick to the use of vegetables. For you to get the best taste out of this, you should add turmeric, ginger, and saffron.
Berber Tagine With Vegetables
This dish is an everyday special dish for the Moroccan people. The vegetables are seasoned and spread in a conical arrangement on top of the lamb or beef in the tajine pot. For more taste, you should use a clay tajine pot because it brings out an earthy yet satisfying flavor of the ingredients used in the preparation like olives, lemon, and the Moroccan seasonings. You can add chili pepper if you want but if not and to avoid much heat, you can omit it.
Merguez Sausage and Egg Tagine
This dish promotes the humble egg to a level to be used for dinner. You cook them with tomatoes, onions and the merguez sausage. A pinch of pepper, salt and cumin will be enough to season the dish, but if your taste buds are not too active, you can add harissa too to promote taste.
Tagine of Shrimp in Tomato Sauce
When you talk about the shrimp tajine delicacy, you should remember that tomato sauce is primary. This dish traditionally is eaten using Moroccan bread cut in pieces but you can do the eating with a fork if you are not so traditional. Not, however, that this particular dish is best served over pasta or rice or bread.