MOROCCAN CUISINE
The Moroccan cuisine is influenced by the interactions of Morocco with other nations and cultures for many centuries. The Moroccan cuisines contain a mix of Arabic, Mediterranean, Berber and Andalusian cuisines which is slightly influenced by Sub-Sahara and Europe. The main dishes of Morocco include pies, beans, peas or rice sides, soups among others.
If you are heading to Morocco on a business trip or for vacation purposes, be sure that you will be amazed at the culinary science and art of the people. Moroccan food ranks high when it comes to the best cuisines in the world and that leaves you no choice but to try them out. I assure you that you will not be disappointed and you will be treated to a variety of foods, exotic ingredients, and seasoning combinations.
Exploring Moroccan cuisines, we will be explaining some of the major Moroccan foods you should try
Chicken with Preserved Lemon and Olives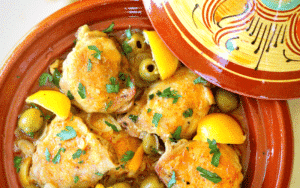 I will describe this as Morocco's omnipresent and most famous dish because of its versatility and class. It tastes very delicious and is a perfect selection on the menu for any occasion such as banquets of celebration and a simple family dinner. This dish is used to welcome visitors in homes, used in restaurants and even tiny dining outdoor venues. It is sometimes presented by a roasted chicken with preserved olives and lemons and is also prepared using a traditional tajine pot or the conventional pot. The process of preparation involves cooking a lot of onion to a pure-like nature together with ginger and saffron. Preserved olives and lemons are later added to finish the cooking.
Couscous
This is a dish that is prepared every week in a lot of Moroccan homes. One of the most popular versions of this dish is one presented with seven vegetables. Beef, lamb or chicken is stewed together with a variety of vegetables which is then arranged on a glorious heap of tenderly steamed couscous grains. Then it is eaten by a gathering of everyone around the served dish which is a common eating practice for many Moroccan foods. However, if you are not a fan of vegetables, then you can try out the couscous tfaya, prepared with raisins and caramelized onions.
Tagine (Tajine)
The Tagine or tajine is the highest point of the Moroccan cuisines. This is a famous Moroccan stew that takes its name from the traditional ceramic or clay dish which is used in preparing it, making the cooking process a slow one. A popular tajine is the Berber tajine cooked with meat and vegetables. Its arrangement is in a conical fashion and is allowed to cook without disturbance until it is tender. This produces a beautiful and delicious dish. This meal is traditionally eaten from the cooking vessel, by scooping up the sauce, meat, and vegetable by using pieces of the Moroccan bread called Khobz.
If you are vegetarian, all you need to do is to exclude the use of meat (which will shorten the cooking time too) or you can try the Vegetarian carrot and chickpea tagine, strictly for vegetarians.
Moroccan Chicken Bastilla
This is by far the most famous savoury pie rendition by the Moroccan culture, there is no doubt about this. From the traditional perspective, the choice of birds was the pigeons but recently chicken is preferred. It is cooked with saffron, cinnamon, pepper, and ginger, then with a herb-loaded omelette, it is layered within crispy Warga pastry and orange flower-scented fried almonds. I tell you that this is a complex but wonderful mixture of textures and flavours. If you don't have the likeness for savoury and sweet, then you can as well try a well-spiced Moroccan seafood Bastilla.
Kefta Meatball Tagine
Moroccans are of the habit of seasoning their ground lamb (kefta) or beef using cumin, herbs of the paprika. The simplest form of this dish is the spiced kefta shaped and pan-fried or grilled. The kefta can also be found to be used majorly in other cuisines like the famous Meatball tajine with poached eggs. No pasta is required despite the heavy tomato sauce, and in the absence of a fork, you will be required to use the Moroccan bread.
This recipe gives you the idea of the ability of the Moroccan people to convert meat consumed from boring to fabulous.
Lamb or Beef with Prunes
This recipe is a combination of savoury and sweet and if you venture on grocery shopping, do not hesitate to try this recipe. Your taste buds and stomach will be well rewarded when you try this recipe. The process involved in its preparation includes cooking the meat until it is tender using saffron onion and ginger. Then you top these using prunes which have been poached in syrup together with honey and cinnamon. If you are not convinced, why not try the chicken with apricots or the Moroccan dried fruit tajine.
Mechoui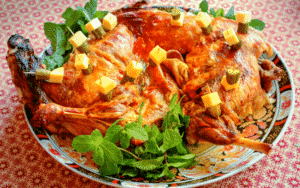 This is the Moroccan roasted lamb and is mostly sampled in the city of Marrakesh, where whole lambs are roasted in pits using the araar wood. But do not worry about digging a hole in your backyard because of this recipe at home; instead, you can try out the Moroccan mechoui recipe which involves the use of only the shoulder or leg of the lamb.
Harira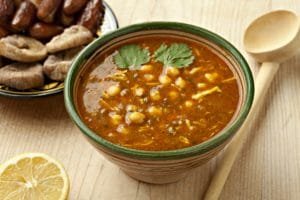 There are various kinds of soups served in Moroccan restaurants and homes but this particular soup stands out as it is unique to Moroccan history and the country's number one soup. It has many variations; however, the typical Harira is a tomato-based and is filled with chickpeas and lentils. Fine broken noodles called chaariya or rice may be added on some occasions: while lamb or beef is normally used in preparing it. The process might not be quick and easy, but the results obtained make the process worth it.
Sardines and other Fish and Seafood
There is an abundant supply of fishes especially sardines in Morocco due to its extensive coastline. This makes this tasty and healthy fish an easy and affordable food. You can simply grill or bake the whole sardine, but a popular way of preparation involves stuffing their fillets with chermoula a zesty marinade and then frying it. This can be taken as a sandwich filler or as an addition to other a treat of another fish or seafood in a Moroccan fried fish dinner and you should not miss this.
Rfissa
Pouring broth and hot meat over a plateful of bread does not present an elegant action, but in its simplicity, it is regarded by many as savoury and world-class satisfying comfort food. This is what we call Rfissa in Morocco. It is a beautiful presentation of lentils and stewed chicken seasoned with saffron, Ras el Hanout and fenugreek to boost its fragrance. In Morocco, this dish is popularly served to new mothers but can also be offered as a special dish to family or on occasions to guests.